What is normal breast tissue and what happens to it during breast cancer?
Breast cancer usually begins in and around the breast tissue which can spread rapidly over time.
A normal female breast tissue is made up of glands and ducts mostly. These glands or 'lobules' secrete milk, which is carried through the ducts to the nipple. Apart from these glands, there are fat, connective tissue, lymph nodes and blood vessels in the breast. Here is how a normal breast tissue looks like (Figure 1).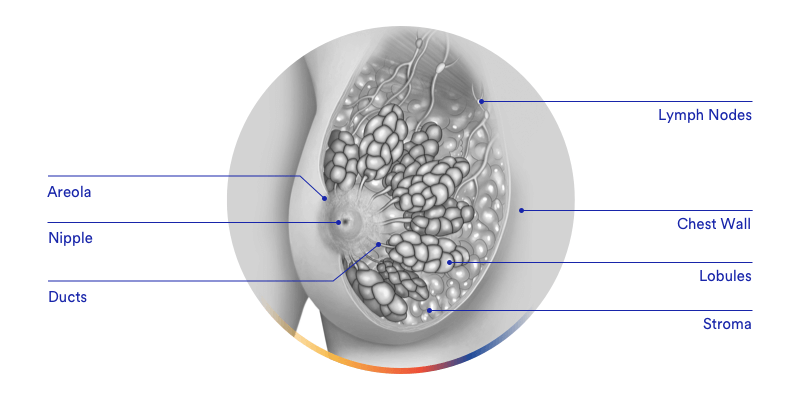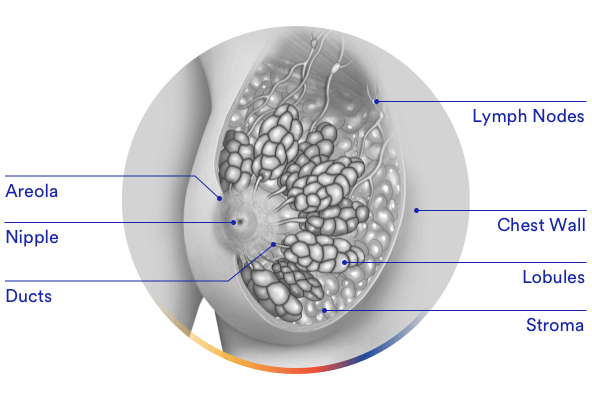 When the cells in these tissues start to divide uncontrollably and abnormally, it may lead to cancer. Cancer can begin in the glands, ducts or in the lymph vessels in and around the skin of the breast, including armpits. At later stages, these cells can move out of its place of origin and invade the surrounding areas. This is when the cancer is called 'metastatic', 'invasive' or, 'infiltrating'. Breast cancer is one of the most frequently diagnosed cancers in women worldwide accounting for about 24.2% of new incidences among all cancers in women annually.
Breast cancer can be of different types based on the site of origin, type of proteins expressed, or on the stage of disease. Based on stage of disease, breast cancer can be identified as to be at an early stage, locally advanced stage or at a 'metastatic' stage. Metastatic cancer, also called stage IV breast cancer is that which has spread outside the breast tissue to other parts of the body. During metastasis, cancer cells travel through the bloodstream and penetrate blood and lymph vessels to reach and lodge in distant organs such as, lungs, liver, bones or brain or any other organ. It is estimated that nearly 30% of women diagnosed with early stage breast cancer go on to develop metastatic disease.
Abbreviations
ACS: American Cancer Society BSE: Breast self-examination CBE: Clinical Breast examination IV: Intravenous mBC: Metastatic breast cancer MRI scan: Magnetic resonance imaging scan NCCN: National Comprehensive Cancer Network VEGF: Vascular Endothelial Growth Factor
References
Breast Cancer Journey, Third Edition, American Cancer Society, 2013
Bray, F., Ferlay, J., Soerjomataram, I., Siegel, R. L., Torre, L. A., & Jemal, A. (2018). Global cancer statistics 2018: GLOBOCAN estimates of incidence and mortality worldwide for 36 cancers in 185 countries. CA: A Cancer Journal for Clinicians, 68(6), 394-424. doi:10.3322/caac.21492
Redig, A. J., & McAllister, S. S. (2013). Breast cancer as a systemic disease: a view of metastasis. Journal of internal medicine, 274(2), 113–126. doi:10.1111/joim.12084
Berkey CS, Tamimi RM, Rosner B, Frazier AL, Colditz GA. Young Women with Family History of Breast Cancer and their Risk Factors for Benign Breast Disease. Cancer. 2012;118(11):2796-2803. doi:10.1002/cncr.26519.
Rosner B, Colditz GA and Willett WC. Reproductive risk factors in a prospective study of breast cancer: the Nurses' Health Study. Am J Epidemiol. 139: 819-835, 199
Transient Increase in the Risk of Breast Cancer after Giving Birth, Mats Lambe, Chung-cheng Hsieh, Dimitrios Trichopoulos, Anders Ekbom, Maria Pavia, and Hans-Olov Adami, N Engl J Med 1994; 331:5-9July 7, 1994DOI: 10.1056/NEJM199407073310102
Kushi, L. H., Doyle, C., McCullough, M., Rock, C. L., Demark-Wahnefried, W., Bandera, E. V., Gapstur, S., Patel, A. V., Andrews, K., Gansler, T. and The American Cancer Society 2010 Nutrition and Physical Activity Guidelines Advisory Committee (2012), American Cancer Society guidelines on nutrition and physical activity for cancer prevention. CA: A Cancer Journal for Clinicians, 62: 30–67. doi:10.3322/caac.20140
Wu Y, Zhang D, Kang S. Physical activity and risk of breast cancer: a meta-analysis of prospective studies. Breast Cancer Res Treat. 137(3):869-82, 2013
Screening and Early Detection, Susan Komen Foundation, Available at https://ww5.komen.org/breastcancer/earlydetectionampscreening.html, Accessed on 26.03.2019
Brierley, J.D.; Gospodarowicz, M.K.; Wittekind, Ch., eds. (2017). TNM classification of malignant tumours (8th ed.). Chichester, West Sussex, UK: Wiley-Blackwell. ISBN 978-1-4443-3241-4.
Treating breast cancer, Susan Komen Foundation, Available at: https://ww5.komen.org/BreastCancer/TreatmentIntroduction.html, Accessed on 26.03.2019