Metastatic Colorectal Cancer
What is metastatic colorectal cancer?
The term 'Colorectal cancer' refers to both colon cancer and rectal cancer.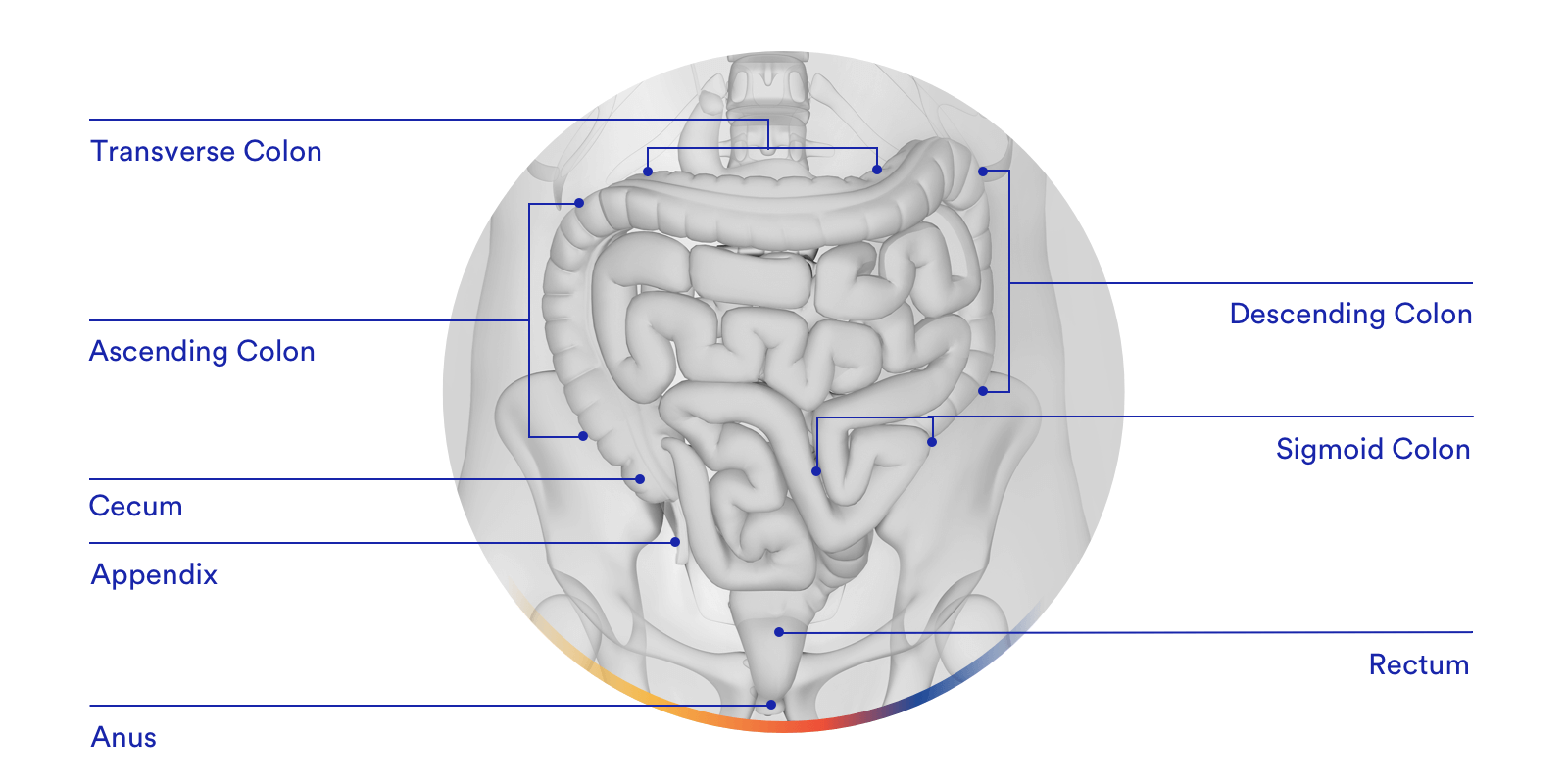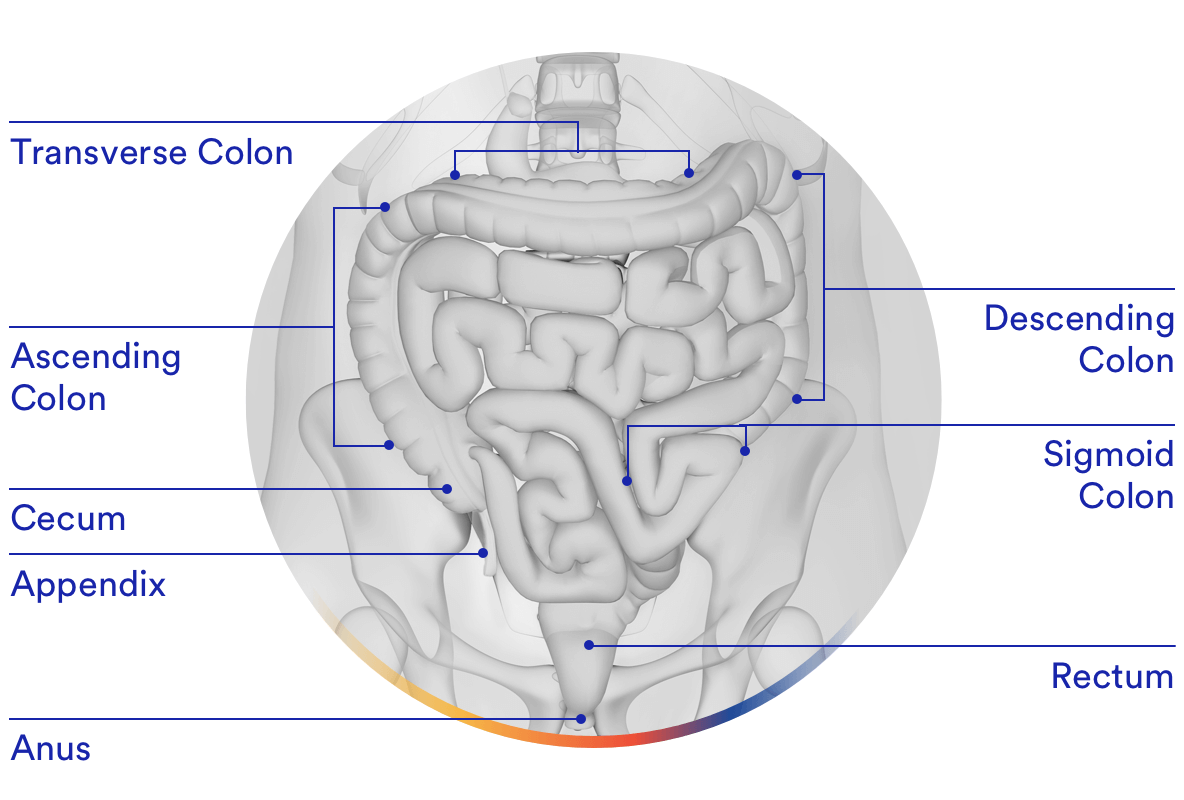 Colorectal cancer (CRC) is the third most commonly diagnosed cancer and a leading cause of cancer death worldwide. The large intestine, or 'colon' is five to six feet long, with the last five to ten inches of it referred to as the 'rectum'. Cancer located in the colon or rectum is called colon cancer or rectal cancer respectively. In most cases, colon cancer begins as small, noncancerous clumps of cells called 'polyps', which, over time can develop into cancer. At advanced stages, cancer cells move (metastasize) to other parts of the body such as the liver, lungs, peritoneum (i.e. the lining of the abdomen) or bones. At this stage, the cancer is referred to as 'metastatic'.
Of all colon cancer cases, 'adenocarcinoma' of the colon and rectum make up as the vast majority. Adenocarcinoma is the cancer of the cells that make mucus to lubricate the inside of these organs. Rest of the other common subtypes include colorectal lymphomas (mostly starts in lymph nodes), gastrointestinal stromal tumours (start in the blood vessels or connective tissue) and carcinoid tumours (starts from hormone-producing cells).
Abbreviations
AJCC: American Joint Committee on Cancer CEA: Carcinoembryonic antigen CRC: Colorectal cancer CT scan: Computed Tomography scan DNA: Deoxyribonucleic acid FOLFIRI: folinic acid, fluorouracil and irinotecan FOLFOX: Folinic acid, fluorouracil and oxaliplatin IBD: Inflammatory bowel disease NCCN: National Comprehensive Cancer Network MRI scan: Magnetic resonance imaging scan PET scan: Positron emission tomography scan TNM: Tumor, Node, Metastasis US scan: Ultrasound scan
References
Bray, F., Ferlay, J., Soerjomataram, I., Siegel, R. L., Torre, L. A., & Jemal, A. (2018). Global cancer statistics 2018: GLOBOCAN estimates of incidence and mortality worldwide for 36 cancers in 185 countries. CA: A Cancer Journal for Clinicians, 68(6), 394-424. doi:10.3322/caac.21492
What is Colorectal Cancer, American Cancer Society, https://www.cancer.org/cancer/colon-rectal-cancer/about/what-is-colorectal-cancer.html, Accessed on 12.06.2019
Source: NCCN Guidelines for patients®. Colon cancer, 2018; Available from: https://www.nccn.org/patients/guidelines/colon/files/assets/common/downloads/files/colon.pdf
Botteri, E., Iodice, S., Bagnardi, V., Raimondi, S., Lowenfels, A. B., & Maisonneuve, P. (2008). Smoking and Colorectal Cancer. JAMA, 300(23), 2765. doi:10.1001/jama.2008.839
Cope, G. F., Wyatt, J. I., Pinder, I. F., Lee, P. N., Heatley, R. V., & Kelleher, J. (1991). Alcohol consumption in patients with colorectal adenomatous polyps. Gut, 32(1), 70-72. doi:10.1136/gut.32.1.70
Levi, F., Pasche, C., Lucchini, F., & La Vecchia, C. (2001). Dietary fibre and the risk of colorectal cancer. European Journal of Cancer, 37(16), 2091-2096. doi:10.1016/s0959-8049(01)00254-4
Frezza, E. E. (2006). Influence of obesity on the risk of developing colon cancer. Gut, 55(2), 285-291. doi:10.1136/gut.2005.073163
Slattery, M. L. (2004). Physical Activity and Colorectal Cancer. Sports Medicine, 34(4), 239-252. doi:10.2165/00007256-200434040-00004
Taylor, D. P., Burt, R. W., Williams, M. S., Haug, P. J., & Cannon–Albright, L. A. (2010). Population-Based Family History–Specific Risks for Colorectal Cancer: A Constellation Approach. Gastroenterology, 138(3), 877-885. doi:10.1053/j.gastro.2009.11.044
Locker, G. Y., & Lynch, H. T. (2004). Genetic factors and colorectal cancer in Ashkenazi Jews. Familial Cancer, 3(3-4), 215-221. doi:10.1007/s10689-004-9547-x
Colorectal Cancer Screening Tests, American Cancer Society, Available at: https://www.cancer.org/cancer/colon-rectal-cancer/detection-diagnosis-staging/screening-tests-used.html, Accessed on 28.05.2019
Tests to diagnose and stage colorectal cancer, American Cancer Society, Available at: https://www.cancer.org/cancer/colon-rectal-cancer/detection-diagnosis-staging/how-diagnosed.html, Accessed on 28.05.2019
Managing Side Effects, Available from: https://fightcolorectalcancer.org/fight/treatment/managing-side-effects/