Advanced Non‐Squamous Non–Small Cell Lung Cancer
What is lung cancer?
Lungs are a pair of spongy air-filled organs located in the chest and are primary for respiration (breathing) in humans. Inhaled air reaches lungs through the trachea (windpipe) which further branches out into bronchi, bronchioles and microscopic alveoli.
When some cells in the lung grow uncontrollably, the condition is called as lung cancer. Cancer cells do not develop into healthy lung tissue, but on the contrary, interfere with normal functions of the lung. Lung cancer is the most commonly diagnosed cancers in men as well as in both men and women taken together.
How different is non-small cell lung cancer (NSCLC) from lung cancer? What is nonsquamous NSCLC?
Non-small cell lung cancer (NSCLC) is a sub-type of lung cancer. It accounts for 80-85% of all lung cancers.
Non-small cell lung cancer (NSCLC) is a sub-type of lung cancer which accounts for 80-85% of all lung cancer cases. Other sub-types are Small Cell Lung Cancer (SCLC) and Lung Carcinoid Tumour. Among NSCLC, there are further sub-types: Squamous NSCLC and Nonsquamous NSCLC. Squamous NSCLC generally originates near central bronchus while nonsquamous NSCLC originates in the peripheral lung tissue. (For a schematic image of lung, see Figure 1)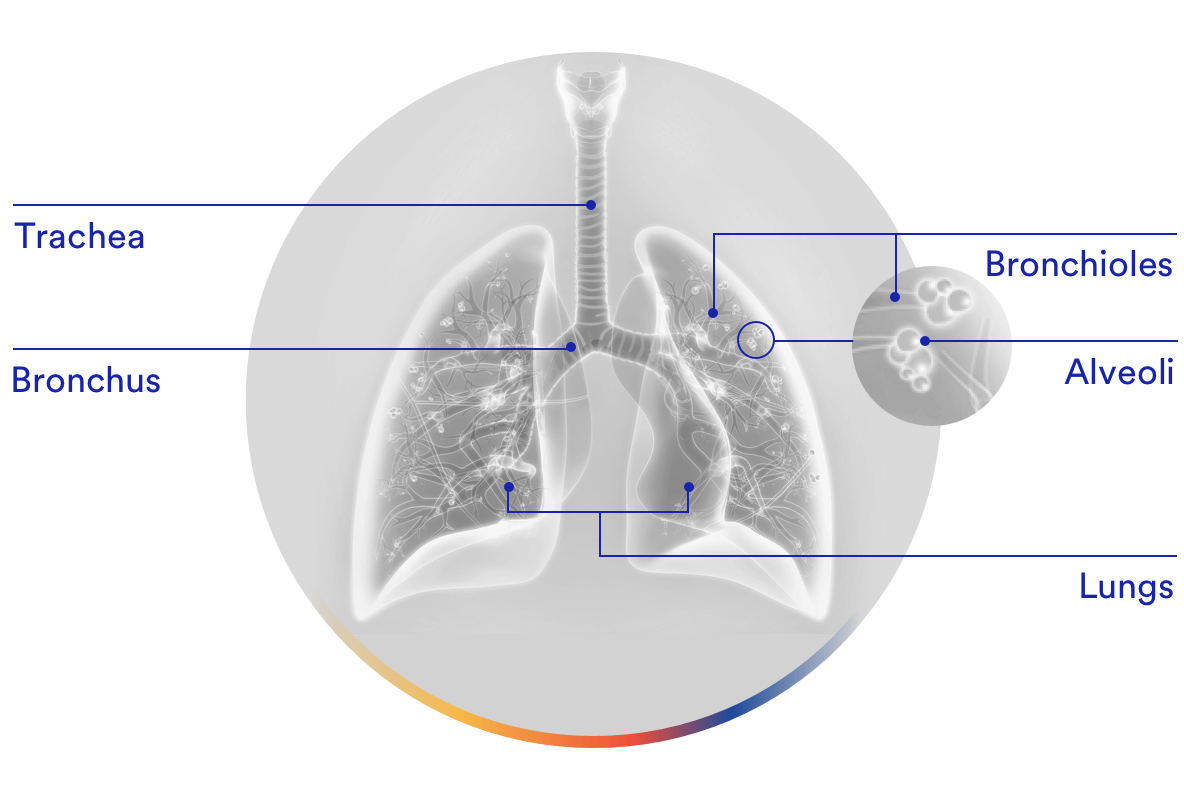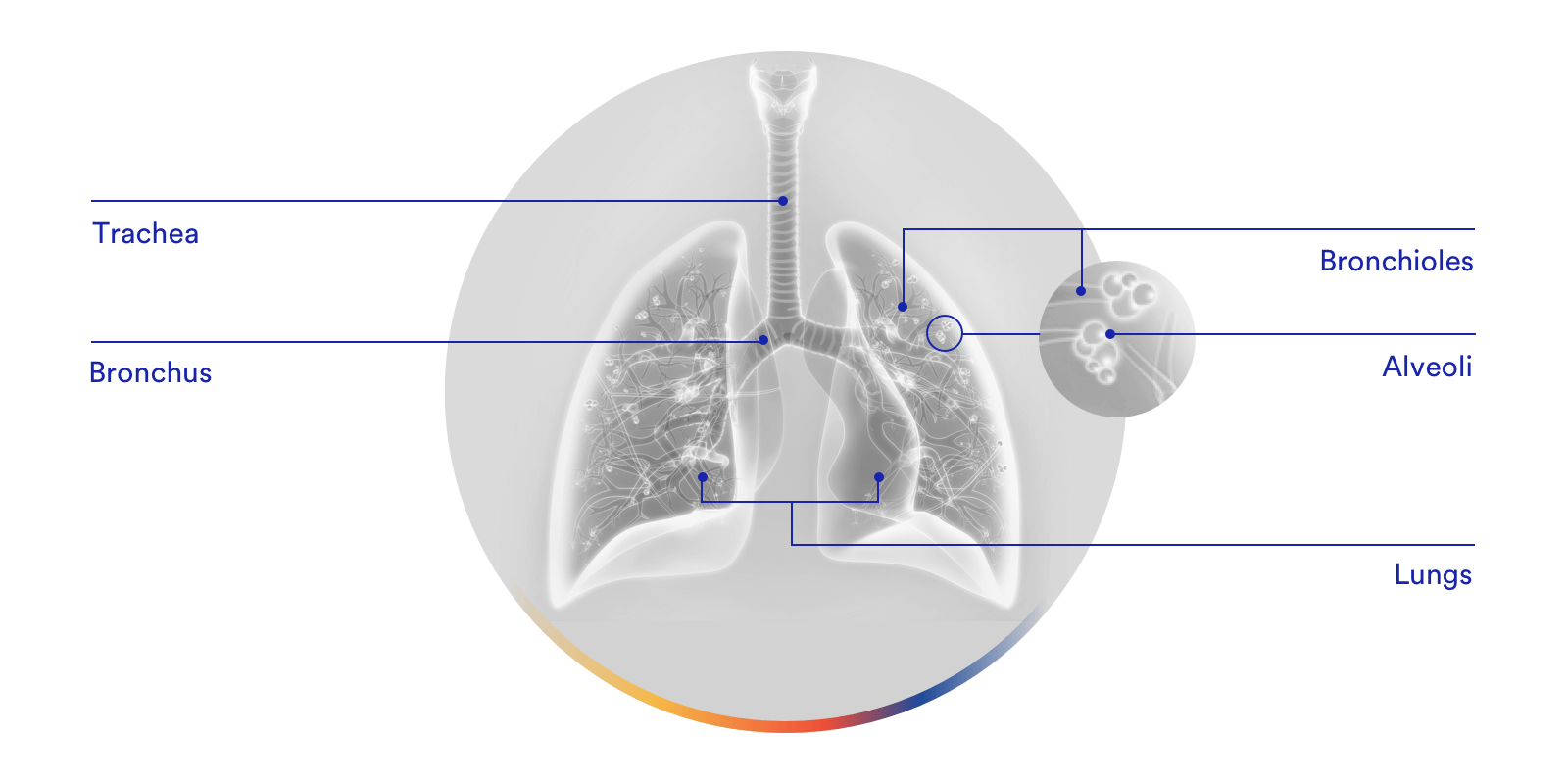 Abbreviations
AJCC: American Joint Committee on Cancer CT scan: Computed Tomography scan EBUS: Endobronchial ultrasound EGFR: Epidermal Growth Factor Receptor IASLC: International Association for the Study of Lung Cancer IHC: Immunohistochemistry IUAC: International Union Against Cancer NSCLC: Non-small cell lung cancer MRI scan: Magnetic resonance imaging scan PET scan: Positron emission tomography scan RFA: Radiofrequency ablation SCLC: Small Cell Lung Cancer SVC: Superior vena cava TBNA: Transbronchial needle aspiration TNM: Tumor, node, metastasis staging system VATS: Video-assisted thoracic surgery VEGF: Vascular Endothelial Growth Factor
References
Bray, F., Ferlay, J., Soerjomataram, I., Siegel, R. L., Torre, L. A., & Jemal, A. (2018). Global cancer statistics 2018: GLOBOCAN estimates of incidence and mortality worldwide for 36 cancers in 185 countries. CA: A Cancer Journal for Clinicians, 68(6), 394-424. doi:10.3322/caac.21492
National Cancer Institute, General information about NSCLC, https://www.cancer.gov/types/lung/hp/non-small-cell-lung-treatment-pdq. Updated on 31st August, 2018, Accessed on 14th January 2019
American Cancer Society, Anatomy of the lung, Available at: https://www.cancer.org/cancer/small-cell-lung-cancer/about/what-is-small-cell-lung-cancer.html
Jemal, A., Thun, M. J., Ries, L. A., Howe, H. L., Weir, H. K., Center, M. M., Ward, E., Wu, X. C., Eheman, C., Anderson, R., Ajani, U. A., Kohler, B., … Edwards, B. K. (2008). Annual report to the nation on the status of cancer, 1975-2005, featuring trends in lung cancer, tobacco use, and tobacco control. Journal of the National Cancer Institute, 100(23), 1672-94.
Asomaning, K., Miller, D. P., Liu, G., Wain, J. C., Lynch, T. J., Su, L., & Christiani, D. C. (2008). Second hand smoke, age of exposure and lung cancer risk. Lung cancer (Amsterdam, Netherlands), 61(1), 13-20.
Hubaux, R., Becker-Santos, D. D., Enfield, K. S., Lam, S., Lam, W. L., & Martinez, V. D. (2012). Arsenic, asbestos and radon: emerging players in lung tumorigenesis. Environmental health : a global access science source, 11, 89. doi:10.1186/1476-069X-11-89
Cooper, W., Lam, D., O'Toole, S., & Minna, J. (2013). Molecular biology of lung cancer. Journal Of Thoracic Disease, 5(5), S479-S490. Retrieved from http://jtd.amegroups.com/article/view/1597
American Cancer Society, Non-Small Cell Lung Cancer Signs and Symptoms, Available at: https://www.cancer.org/cancer/non-small-cell-lung-cancer/detection-diagnosis-staging/signs-symptoms.html Accessed on: 14th Jan 2018
Gould, M. K., Tang, T., Liu, I. A., Lee, J., Zheng, C., Danforth, K. N., … Suh, D. E. (2015). Recent Trends in the Identification of Incidental Pulmonary Nodules. American Journal of Respiratory and Critical Care Medicine, 192(10), 1208-1214. doi:10.1164/rccm.201505-0990oc
Planchard, D., Popat, S., Kerr, K., Novello, S., Smit, E. F., & Faivre-Finn, C. (2018). Metastatic non-small cell lung cancer: ESMO Clinical Practice Guidelines for diagnosis, treatment and follow-up†. Annals of Oncology, 29(Supplement_4), iv192-iv237. doi:10.1093/annonc/mdy275
Adams, K., Shah, P. L., Edmonds, L., & Lim, E. (2009). Test performance of endobronchial ultrasound and transbronchial needle aspiration biopsy for mediastinal staging in patients with lung cancer: systematic review and meta-analysis. Thorax, 64(9), 757-762. doi:10.1136/thx.2008.109868
International Agency for Research on Cancer. (2015). Who Classification of Tumours of the Lung, Pleura, Thymus and Heart. Geneva, Switzerland: World Health Organization.
Boffa, D. J. (2018). The Eighth Edition Lung Cancer Stage Classification. Lung Cancer: A Practical Approach to Evidence-Based Clinical Evaluation and Management, 57-66. doi:10.1016/b978-0-323-48565-4.00003-5
Source of information: Classification information & library of images collated based on guidelines by the International Association for the Study of Lung Cancer (IASLC), the International Union Against Cancer (IUAC) & the American Joint Committee on Cancer (AJCC) hosted by CHEST, American College of Chest Physicians http://staginglungcancer.org/calculator Accessed on 17th January, 2019
American Cancer Society, How is non-small cell lung cancer treated? Available at: https://www.cancer.org/cancer/non-small-cell-lung-cancer/treating.html Accessed on 17th January 2019
Filosso, P. L. (2011). Emerging treatment options in the management of non-small cell lung cancer. Lung Cancer: Targets and Therapy, 11. doi:10.2147/lctt.s8618
Jemal, A., Thun, M. J., Ries, L. A., Howe, H. L., Weir, H. K., Center, M. M., Ward, E., Wu, X. C., Eheman, C., Anderson, R., Ajani, U. A., Kohler, B., … Edwards, B. K. (2008). Annual report to the nation on the status of cancer, 1975-2005, featuring trends in lung cancer, tobacco use, and tobacco control. Journal of the National Cancer Institute, 100(23), 1672-94.
Asomaning, K., Miller, D. P., Liu, G., Wain, J. C., Lynch, T. J., Su, L., & Christiani, D. C. (2008). Second hand smoke, age of exposure and lung cancer risk. Lung cancer (Amsterdam, Netherlands), 61(1), 13-20.
Problems after surgery, Cancer Research UK, Available at: https://www.cancerresearchuk.org/about-cancer/lung-cancer/treatment/surgery/possible-problems Accessed on 21-01-2019