Ovarian Cancer, Fallopian Tube Cancer or Primary Peritoneal Cancer
How is ovarian cancer diagnosed and detected?
Being watchful of severe, persistent symptoms will be helpful in early diagnosis.
Detecting early improves chances of devising better treatment in ovarian cancer. Be aware of the symptoms and if one or more symptoms persist, immediately consult a doctor. To know more on symptoms of ovarian cancer, click here. There are different ways by which a doctor would diagnose and detect ovarian cancer. These are:
I. General medical history and physical exam
Knowing the medical history of the patient helps the doctor in understanding the risk that the woman is subject to. This includes family history of ovarian or gynaecological cancers. During a physical exam, the doctor may feel for the size of the ovary and also check for any signs of fluid in the abdomen (called 'ascites').
II. CA-125 blood test
CA-125 is a protein normally present in blood, the level of which may get elevated during ovarian cancer. However, some women have naturally elevated levels of CA-125 and about one-fifth of women with ovarian cancer do not show elevated CA-125. For this this reason, although CA-125 testing may be a part of the diagnostic and monitoring regimen, it is not a definitive test for screening or ascertaining presence or absence of ovarian cancer.
III. Imaging tests
Transvaginal Ultrasound: During ultrasound test, sound waves sent through a probe placed in the vagina, are used to create an image. This helps in finding the tumour or any fluid filled ovarian cysts, with size.
CT scan: A Computed Tomography (CT) scan does not help in detecting small ovarian tumours well enough. But, if in case the cancer has grown larger, or has metastasized (moved to other parts of the body), CT scan can help detect this. With the assistance of 'CT-guided needle biopsy', a mass of tissue from the metastasized area can also be removed for biopsy.
Chest X-ray may help to determine if ovarian cancer has spread to the lungs
During a PET scan, the doctor injects a radioactive dye into the body and takes specialized images to view its uptake. Cancer cells being fast growing, take up more of the sugar and thus light up differently in the CT scan image.
Other tests such as laparoscopy, colonoscopy, blood tests and biopsy may also be performed additionally.
---
Once diagnosed, can one know how far the cancer might have progressed?
Staging (determining the spread) of ovarian cancer is usually done with the help of biopsy samples. As a general rule, higher the stage, higher will the grade or spread of cancer be. Ovarian cancer staging also is guided by both FIGO (International Federation of Gynecology & Obstetrics) and AJCC (American Joint Committee on Cancer) staging system. Both classification systems consider 3 factors: T (tumour), N (node) and M (metastasis) to determine stage (Figure 2).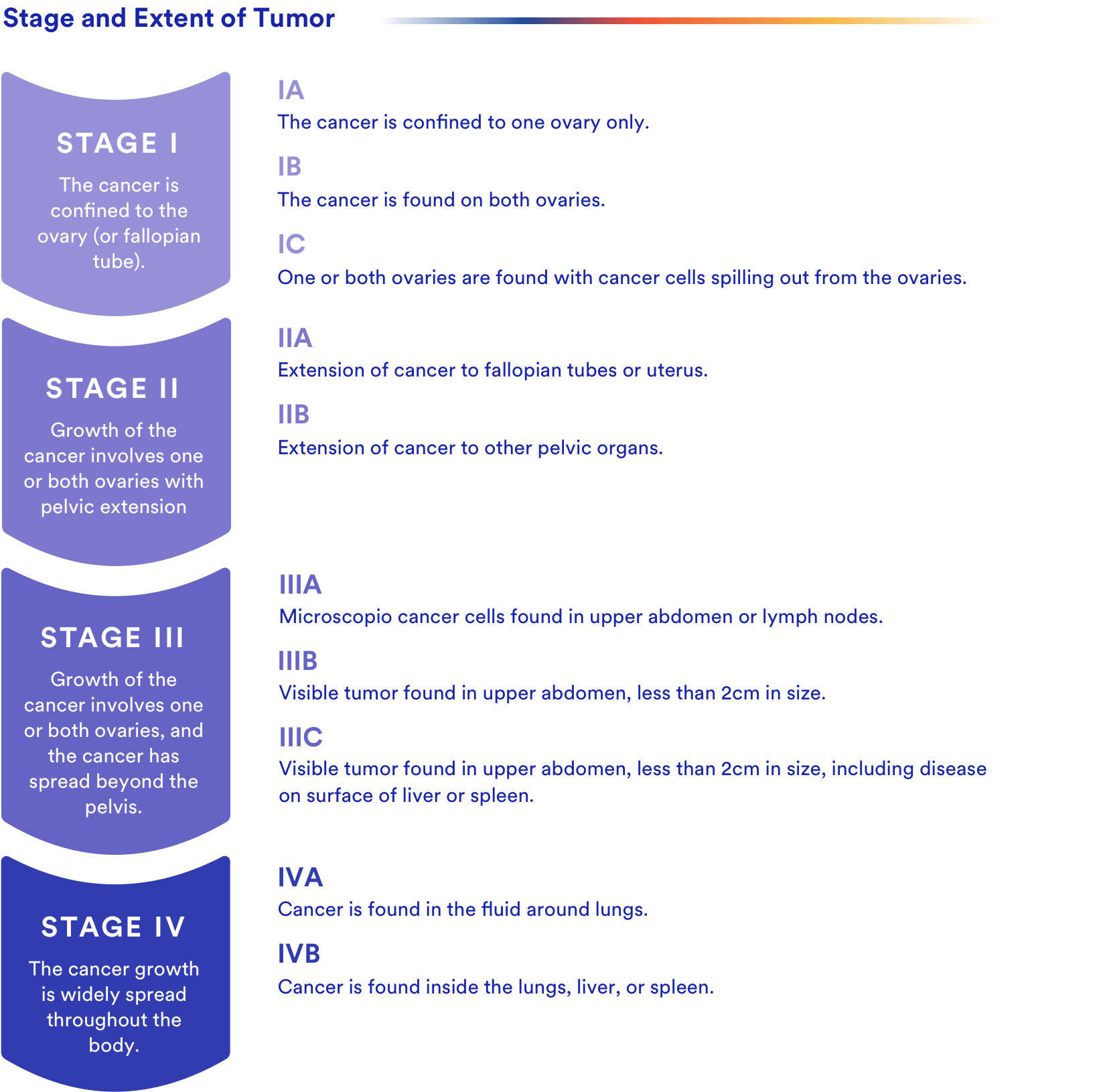 Abbreviations
AJCC: American Joint Committee on Cancer CT scan: Computed Tomography scan EBRT: External beam radiation therapy FIGO: International Federation of Gynecology and Obstetrics HRT: Hormone replacement therapy LHRH: Luteinizing hormone-releasing hormone NCI: National Cancer Institute PARP: Poly (ADP-ribose) polymerase PET scan: Positron emission tomography scan TNM: Tumor, node, metastasis staging system
References
What is ovarian cancer?, American Cancer Society, Available at: https://www.cancer.org/cancer/ovarian-cancer/about/what-is-ovarian-cancer.html, Accessed on 15.02.2019
Bray, F., Ferlay, J., Soerjomataram, I., Siegel, R. L., Torre, L. A., & Jemal, A. (2018). Global cancer statistics 2018: GLOBOCAN estimates of incidence and mortality worldwide for 36 cancers in 185 countries. CA: A Cancer Journal for Clinicians, 68(6), 394-424. doi:10.3322/caac.21492
Timing of Pregnancy and the Risk of Epithelial Ovarian Cancer, David C. Whiteman, Victor Siskind, David M. Purdie and Adèle C. Green, Cancer Epidemiol Biomarkers Prev January 1 2003 (12) (1) 42-46
Loft A, Lidegaard O, Tabor A. (1997). Incidence of ovarian cancer after hysterectomy: a nationwide controlled follow up. Br J Obstet Gynaecol, 104(11), 1296-301. Retrieved from https://obgyn.onlinelibrary.wiley.com/doi/pdf/10.1111/j.1471-0528.1997.tb10978.x
Ovarian Cancer Risk Factors, American Cancer Society, Available at: https://www.cancer.org/cancer/ovarian-cancer/causes-risks-prevention/risk-factors.html, Accessed on 18.02.2019
Foong, K. W., & Bolton, H. (2017). Obesity and ovarian cancer risk: A systematic review. Post Reproductive Health, 23(4), 183-198. doi:10.1177/2053369117709225
Stewart, L. M., Holman, C. D., Aboagye-Sarfo, P., Finn, J. C., Preen, D. B., & Hart, R. (2013). In vitro fertilization, endometriosis, nulliparity and ovarian cancer risk. Gynecologic Oncology, 128(2), 260-264. doi:10.1016/j.ygyno.2012.10.023
HRT and Cancer, Cancer Research UK, Available at: https://www.cancerresearchuk.org/about-cancer/causes-of-cancer/hormones-and-cancer/hrt-and-cancer Accessed on: 18.02.2019
Frank, T. S. (1999). Testing for Hereditary Risk of Ovarian Cancer. Cancer Control, 6(4), 327-334. doi:10.1177/107327489900600401
Symptoms: Ovarian Cancer, National Health Service (NHS), UK, Available at: https://www.nhs.uk/conditions/ovarian-cancer/symptoms/ Accessed on: 18.02.2019
Frank, T. S. (1999). Testing for Hereditary Risk of Ovarian Cancer. Cancer Control, 6(4), 327-334. doi:10.1177/107327489900600401
Ovarian Cancer Stages, American Cancer Society, Available at: https://www.cancer.org/cancer/ovarian-cancer/detection-diagnosis-staging/staging.html Accessed on 19.02.2019
Treatment, Target Ovarian Cancer, UK, Available at: https://www.targetovariancancer.org.uk/information-and-support/my-ovarian-cancer-has-come-back/treatment Accessed on 12.06.2019